This Pakistani Chat rooms are the one stop for entertainment, web radio, chatroom and making friends. Enjoy your stay in the chat room.
Assalam-o-Alaikum and Welcome to Pakistani Chat Rooms @ Fun Cafe. This is a clean and family chat room thus you are not allowed to use bad language. Also, no advertising, harassment or abusing in the chatroom. Racial talk is not tolerated and religious and political debates are not honored. Its a humble request to all of you that this chat room is for you, kindly consider it as your secondary home because it is a family chat room 🙂 . In case of any complain, suggestion and feedback you can go to our contact page by Clicking Here Thanks a bunch for Joining the Chat Room and following the rules. We wish you a Good Stay Here Thanks 🙂
Online Pakistani Chat Rooms

Pakistani Chat Rooms provides quality chatting rooms across the world. Enjoy Chatting With Pakistani and Indian boys and girls online.
Hurry up and join our free chat rooms right now if you want to enjoy chatting all around the world. These Chat Rooms has almost more users than all the World chat rooms. Because here you can stay Online and Chat With your Pakistani Friends Easily in these Online Chat Rooms. For chatting with your friends join our urdu chat room and for Hindi chatting join our . Our most popular page is our Pakistani Chat Rooms without registration.
Pakistani Chat Room at FunCafe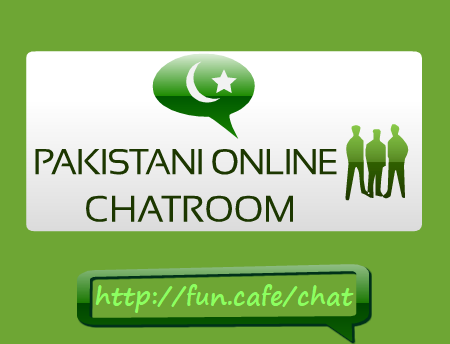 FREE Chat Room online Without Registration
Pakistani Chat Rooms
These Pakistani Chat Rooms are the best chat rooms among all world chat rooms because you can find thousands of people in Pakistani chat rooms, and make friends. To conclude, these thematic Pakistani chat rooms are such chat rooms where people chat in a good way share information's and you can come to know the cultures of different people.
Pakistani chat rooms are not only for enjoyment but also for learning some thing from each other because in chatroom you can meet with all Pakistani with different languages in this room you can make decent people friends that makes it the best chat rooms of the world, in these chat rooms u can talk on different topics such as u can share information's and news etc about country and can discuses about current issues of Pakistan u can share Urdu poetry with each other.
You can talk about movies basically chat is a creation of communication for everyone to talk on line and select friends in Pakistani chat rooms u can also talk with your family members who live far from you. in Pakistani rooms there some rules and if u follow the rules you will not get disturbance there are admin if any one disturb you so admin will ban him so Pakistani chat rooms are the best chat rooms for collecting information's from each others.
Home | FunCafe | Pakistani Chat Room | Terms & conditions

Pakistani Chat Room at Fun Cafe Network © 2018